16

Open Access or a paywall for your manuscript?

There are many well established benefits to publishing an Open Access (OA) paper where there is no pay wall to any readers. These include, increased citations, increased exposure and coverage by the media, not to mention increased interactions with the public and the moral and ethical duty to be able to share research as widely as possible. Many studies are now suggesting that the advantages go even deeper (see a collection of studies by Tennant, 2017). However the current reality is that most publishers will then require you to pay in order to produce your publication open access. There are chapters later on in this book that discuss the importance of open access. In this chapter, I review the different OA models available. At this period in time, the names are somewhat fluid, and you may not find the specific term mentioned here on the publishers' website.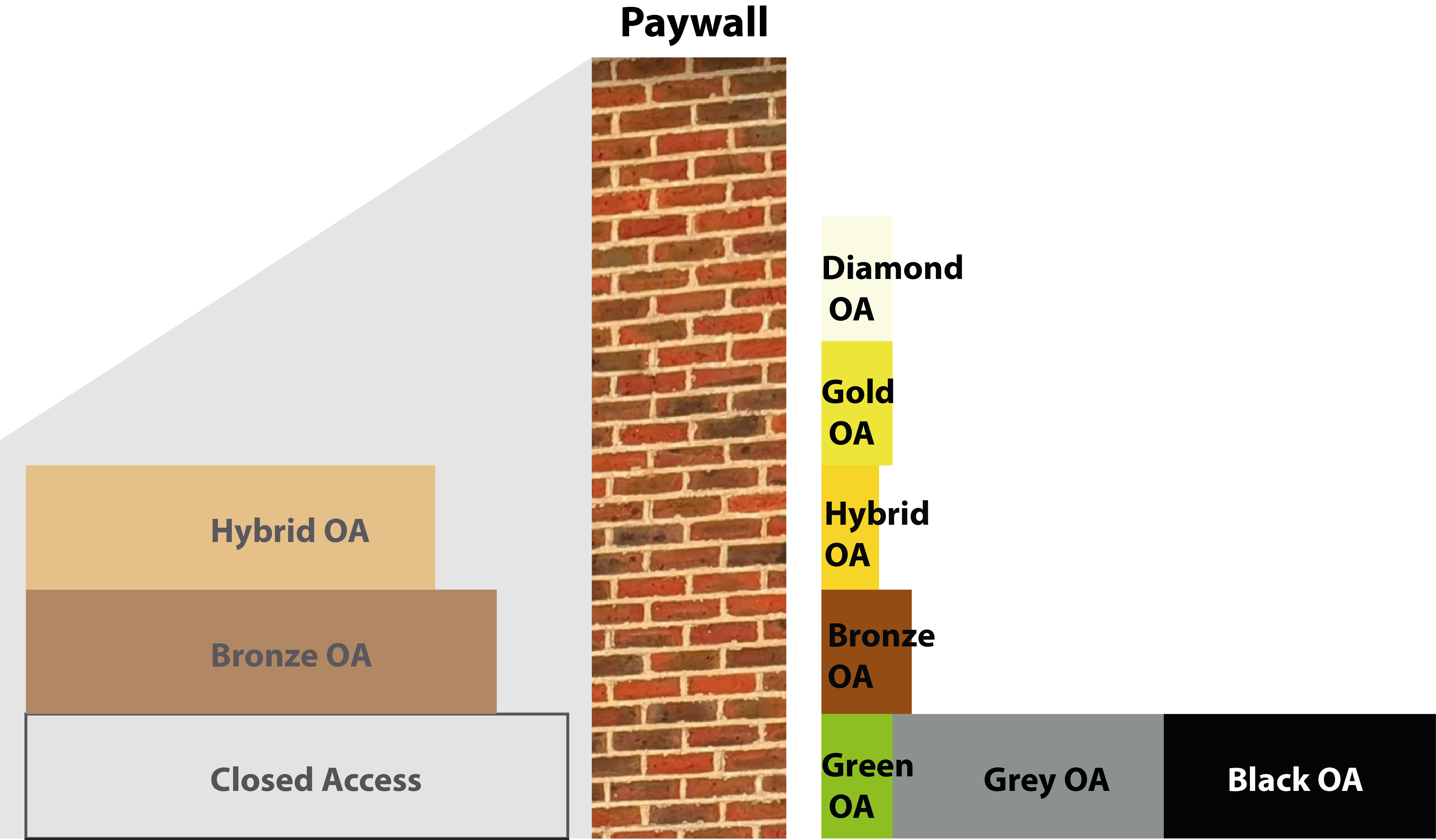 16.1

Closed Access: i.e. The Paywall

This refers to the need for your institution or you personally to be subscribed to the journal in order to access the content. This is the traditional model in academic publishing. If you are a member of an academic society then you may get access to their society journals through your membership. This is still effectively a paywall that is maintained by the publisher and the society together (Figure 16.1).

It is sometimes hard to know if there is a paywall if your university subscribes to the publisher or the journal that you are interested in. There has been a lot of headway made in having seamless integration and access to articles behind paywalls from within university IP addresses.

If you try working from home then you will quickly find out which journals exist behind paywalls. There is another chapter with ideas on how to get around the paywall if you need to.

Although publishing an article behind a paywall is often frowned upon these days it usually means that there'll be no cost for you as the author, and so for many academics this is still the only real option in terms of publishing their scholarly work in an academic journal.

There follows a brief description of each of the OA models. See Piwowar et al. (2018) for a historical review of these different models:
16.2

Open Access

There is a bewildering array of different Open Access types. Entries in the list below are not mutually exclusive. Moreover, you may not be aware how your manuscript may be treated, and it is not always possible to predict the level of OA your article will be published with in many journals. Each journal will likely have their own policy, tied to the publisher in many cases.
16.3

Article Processing Charge - APC

The Article Processing Charge, or APC as it's commonly referred to, is the way in which Gold OA journals, or Hybrid OA, pay for their services. The Article Processing Charge is the subject of another chapter in Part III. The APC is probably one of the most important numbers to look at when considering whether or not to submit your manuscript to a Gold OA journal. There are some Gold OA journals that charge very small APCs, what it costs them to typeset and host the VoR (see Part III for a detailed breakdown of what the APC pays for). But these are not the norm, and they might not provide all the services you need (such as indexing or DOI) included. You will need to read later in the book to find out what publishers do with the money you give them, and why having you believe in their metrics helps them take more cash from you and your institution.
16.4

Supplementary Information and Data

Whichever route you decide to go for your manuscript, please do not place your data with the publisher. There are some examples where publishers choose to place both data and supplementary information deposited with them behind a paywall, even if the article is available Open Access. We also need to ask whether the publisher has the long term vision to curate data, especially when the expense associated with this will rise over time as datasets accumulate behind their paywall. Elsewhere in this book you will find some suggestions about what to do with your data to make it available for all.
16.5

Unsure what you can legally do with a published paper?

If you don't know what level of copyright exists on something that you have published, then you can find an aggregated set of publisher policies at Sherpa Romeo. This is a really nice database which provides a very simple summary by journal. You can also use this to check out a journal that you are thinking of publishing with. If you are still in doubt, then consult your librarian.